For those of you who aren't from my area of the world, here in the South, today was one of the biggest holidays of the year: opening day of college football season.  People here go crazy for college football; the outcome of a game can make or break a person's day or weekend, and the number of wins in a season can determine a person's mood for the entire fall.  While my weekend isn't ruined after a loss, I must admit that I'm not immune to this college football madness; it's invigorating, fun, fantastic.
First there's the tailgating (which we didn't do today for a few reasons.  Next week, that'll happen.)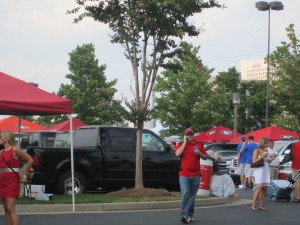 People literally put up tents in parking lots next to their cars and cookout, drink, play corn hole, and even hook up televisions so they won't miss other football games throughout the day.  My favorite tailgates take place in beautiful, grassy areas, but since today's game was in the middle of downtown Atlanta, concrete was fairly unavoidable.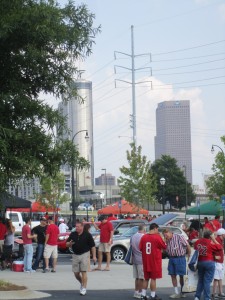 Then there's the game.  You enter the stadium, and for a few hours, all that matters is your team.  And every individual play and call made by the refs.  It can get pretty intense.
Sadly, this picture from warm ups is all I have for you.  Why?  Because I was at a football game!  The point is to watch the game, not take pictures.  I actually felt ridiculous pulling out my camera even for the blog, but I pushed through for my reader's sakes!
If you follow college football, then you know that the past few years have been rough for Georgia fans, and you probably know that tonight wasn't any different.  Actually, we got our as booties handed to us by Boise State,  and it really wasn't all that fun.  On the way home from the game, John and I reminded each other that we're lucky to have spent our lives loving a good team, and that some lost games and bad seasons don't change the fact that we still love our Dawgs, and we'll still be there in red cheering them on next week.
We were also thankful that today started better than it ended, with my amazing blueberry banana oatmeal!  I randomly threw this oatmeal dish together earlier this week before rushing off to a long day, and John loved it so much that he keeps asking for it, even though he really isn't much of an oatmeal fan.
And…the finished product.  Delicious and healthy breakfast for two!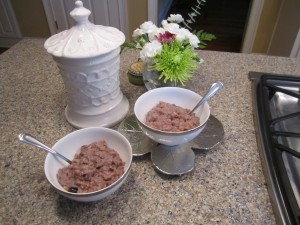 Blueberry Banana Oatmeal Recipe
Serves two people
Ingredients
1 cup whole wheat oats
1 3/4 cups almond milk
1 teaspoon chia seeds
1 teaspoon flax meal/ground flax seed
1/2 teaspoon NuNaturals vanilla stevia (like vanilla extract, but with stevia.  You can substitute vanilla.)
1/4 cup fresh blueberries
1 banana
1/4 cup walnuts
Agave nectar to taste
Directions
1. Bring almond milk to a boil.
2. Add oats, chia seeds, flax, and vanilla to boiling milk, stir well, and reduce heat.
3. Meanwhile, cut banana into small pieces and wash blueberries.
4. When fruit is clean and cut, add to oats and stir.  This will allow the flavor from the fruit to absorb into the oats.
5. Once fruit is added, finely chop walnuts (I recommend using a nut chopper/grinder).
6. When liquid is absorbed and oatmeal is fluffy (5-7 minutes unless using slow-cook oats), add walnuts and agave nectar.
Enjoy!