Sorry, kids.  You're going to have to wait until a little later in the post to learn about the amazing recipe, but I'll give you a hint: you've been waiting for it!
Now on to more important issues (enter dogs.  mine.  We'll call them Charlotte and Cody)  It seems like bloggers have crazy obsessions with their animals, and it's time to confess that I am no different.  My life revolves around these two.  Being with them is often the highlight of my day, even when the day was great on its own.  Leaving them for the wedding and honeymoon is devastating to me, even though everything surrounding this time is so amazing.  They're my kids, and I will Skype home from Bora Bora to check on them.  Friends, meet the real, crazy, obsessive about her babies Katy.
In May of 2010, John and I left the (big) babies for a week and a half to go to Italy and Switzerland to get engaged.  AWESOME!  John finally agreed to hire someone to clean his house while we were gone (we're both bad cleaners/messy people, and Charlotte and Cody…well…their domestic habits should be pretty obvious.)  As soon as he got home and saw the house, he was sold.  Housekeeper every few weeks = worth it!  It's amazing what not living in filth will do for a man's perspective.
So this morning, like all Friday mornings every other week, it was my job to let the housekeeper in.  She's truly the best cleaner I've ever seen.  The only thing I don't like about having her come make the house all shiny and clean is that she's terrified of the dogs.
Granted, they're big, especially Cody.
And hyper!  Especially Charlotte.
And maybe I never taught them not to jump on people.  Or each other.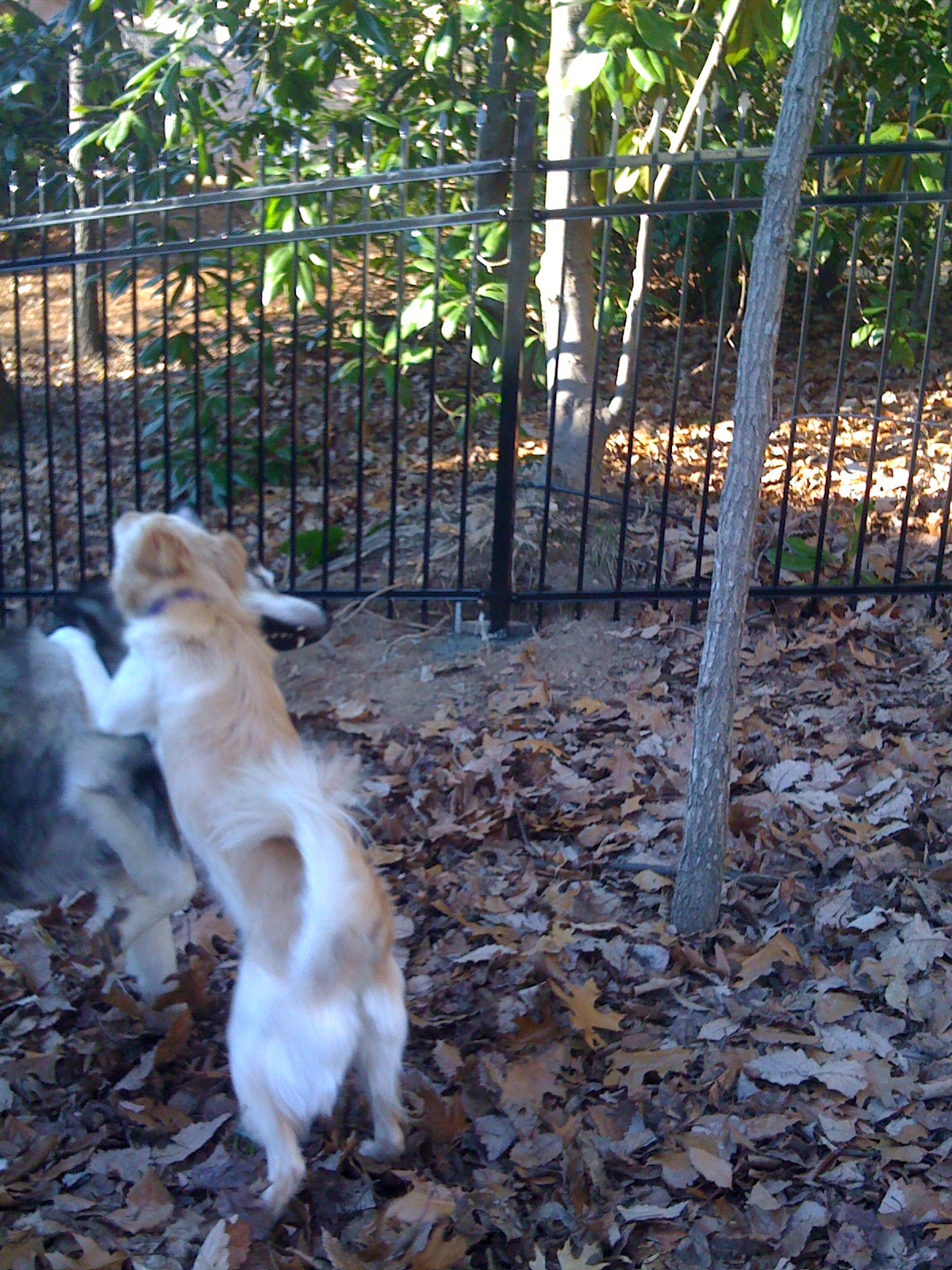 But, seriously, how can you be afraid of this?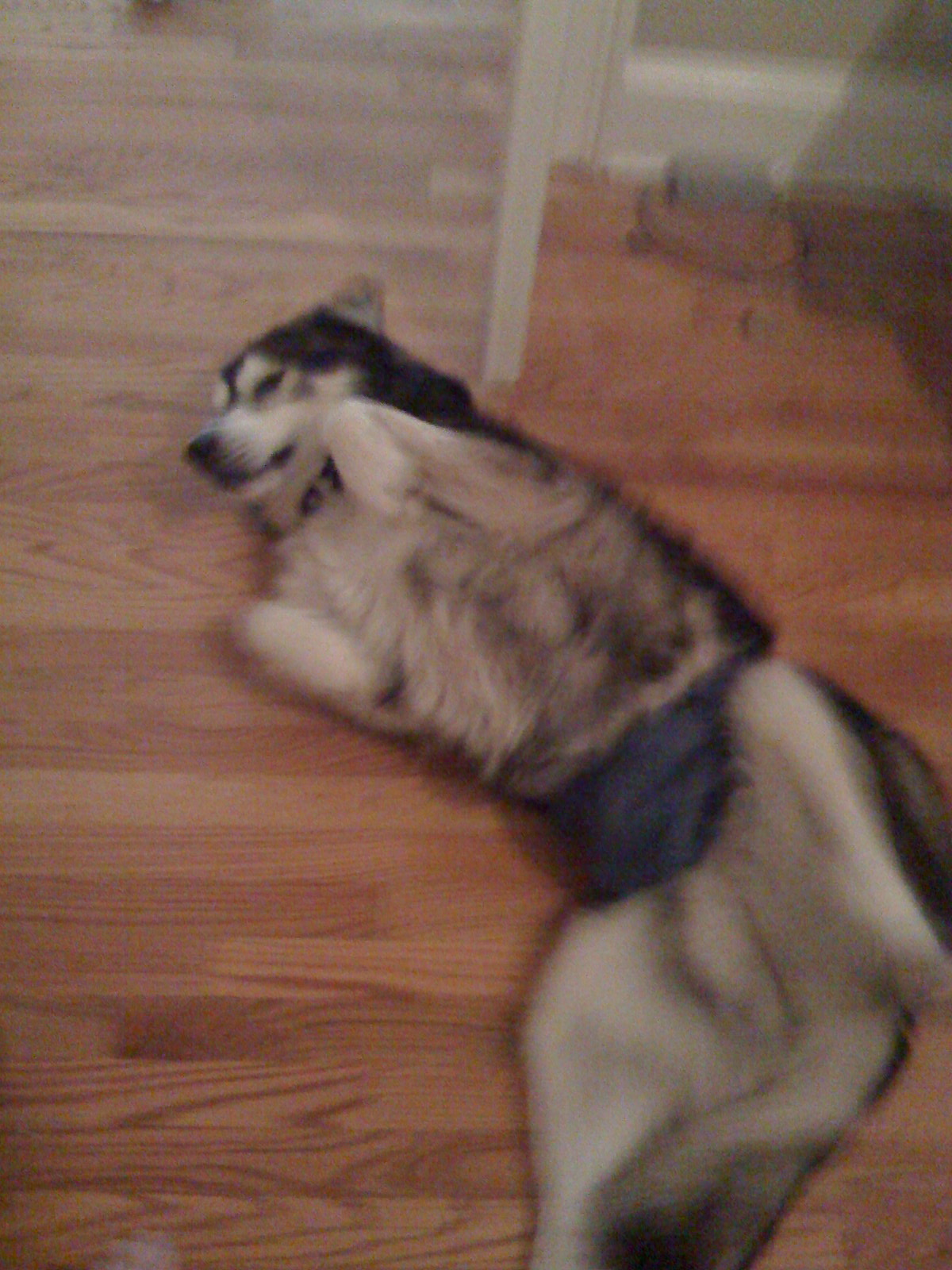 Alas, the housekeeper is terrified of them, so when she comes, out go the dogs.  This morning was particularly traumatic because Cody absolutely refused to go outside.  He's a smart one; he knows he'll be stuck there all day, getting in and out of the pond to stay cool.  And he was having none of it.  He's a trickster, that one.
Sadly, so is Mama.  So I pulled out his leash, which I only use when he's about to get in the car, which he LOVES, and out the door he went.  I walked back in and shut my babies outside behind me.  I feel like the worst doggie mom EVER!  I tricked them.  Who cares that I haven't trained them properly?  I love them the way they are.  But I practically lied to them this morning.  Not cool.
You know what else is not cool, at least in their minds?  The fact that I keep them on a very strict healthy dog food diet and refused to give them even a taste of these amazing strawberry upside down muffins!
I'd been eyeing Emily over at Daily Garnish's Strawberry Jelly Surprise Muffin recipe for weeks.  The time had come.  I stuck pretty closely to the original recipe, only I used Arrowhead Mills All-Purpose Baking Mix (it's whole grain) instead of flour.
I followed all the instructions to make the jelly a surprise in the middle like it is in Emily's beautiful muffins.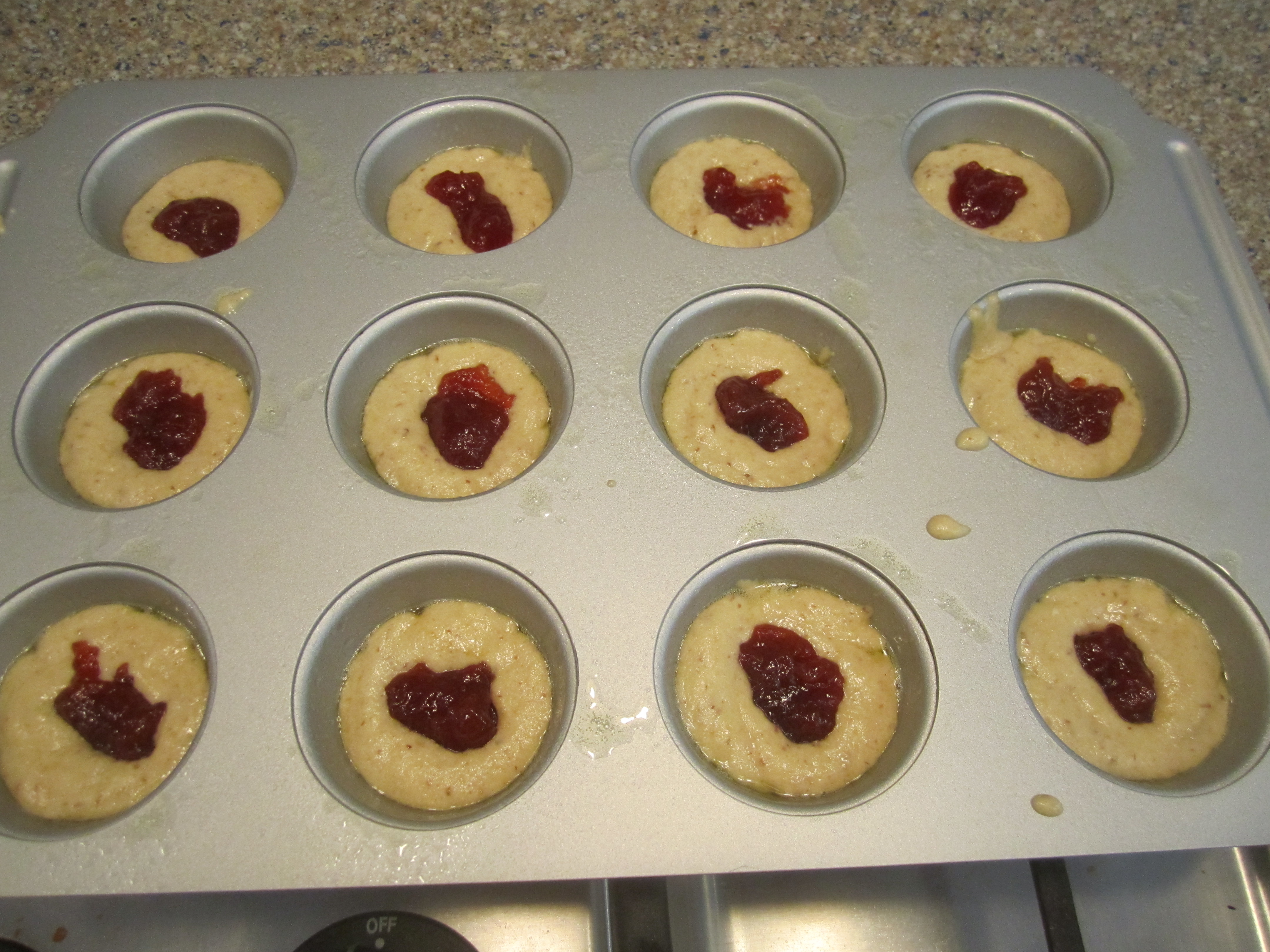 Turns out my jelly was denser than my batter, because it fell through the muffins and into the bottom of the tin.  Major bummer for someone who isn't a culinary genius like me.  I used my brains, flipped them upside down, and put the jelly in the hole that was left from where it fell out.  Result: STRAWBERRY UPSIDE DOWN MUFFINS!
Scrumptious, high fiber breakfast/treat with Omega 3s!  Thanks, Daily Garnish, for another great recipe!
Tell me a story about your crazy obsession with your animals!
What recipe has turned out wrong, but you used your genius to save it?