Have you ever noticed that most of my posts begin with a colon in the title?  What are your feelings on this subject?  Does it bother you, or are you fine with it?
This convention is an easy pitfall for me when blogging.  Why?  I'm getting my PhD in English, people.  This is what we do.  Look at nearly any article in my field and you'll see "Quippy Title: Explanation of the What the Paper Actually Says."  It looks something like this.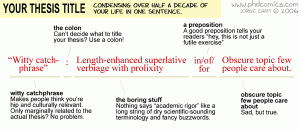 Source
This is how I live; it's what I know, and somehow, I've translated my academic habit into the blogosphere.  Not cool.
Today, I defy convention!  That's right, I'm a rebel. "Spice It Up: A Zesty Recipe for Pumpkin Butter" has turned into a simple, normal title that simply describes the food.  Weird how easy this can be.
Bloggers, myself included, have been going crazy over all things pumpkin recently.  Personally, I don't want it to stop, and I have quite a few more pumpkin recipes to roll out within the coming days.
Among my favorite fall reads have been Ari over at The Diva Dish and Angela at Oh She Glows.  Not only are they amazing, fun, talented bloggers, but their recipes rock, and they've both had a recent excitement about (or at least mention of) pumpkin butter.  Angela even has a seasonal header and I pretty much can't stop staring.
Once I read their pumpkin butter posts, I just couldn't get it out of my head.  John thought it sounded pretty stellar, as well.  So, as a surprise for him on Monday (I had the day off), I made a big ole batch of pumpkin butter, loosely based off of Angela's recipe.
*Note: In response to a question someone asked after this week's fall-themed What I Ate Wednesday post, there is no butter in pumpkin butter.  Maybe it's a Southern thing?  Or maybe everyone does it.  I don't know.  Fruit butters tend to have jelly-like consistencies, except they're usually thicker and smoother.*
I really wanted to make this recipe my own, but I accidentally went a little too far with the cloves.  Cloves (when thoroughly ground) can be an amazing spice, but must be used MINIMALLY, or they'll overtake your food.
To offset the flavor, I started adding more apple juice and more pumpkin, which eventually led to the need for more spices, even though I'd already overdone them once.
The result: a unique, delicious pumpkin butter in a large enough quantity to give as a gift to lots of amazing folks.
While this recipe had a little too much clove and nutmeg for pumpkin butter I'd want to eat daily, I actually think it's a really great sort of "specialty item."  This weekend, I'm buying small jars, putting the pumpkin butter into them, and giving them as gifts.
You see, this is a really good pumpkin butter, there's just too much spice for it to be something you want a whole big jar of.  But in smaller quantities, I'm enjoying it far more than regular pumpkin butter because it's unique – there's something more to it.  It's zesty, if you will (which just so happens to be the name of the guy who has done such an awesome revamp to notjustacarnivore).
Give it a try as a quick an easy gift for your holiday, and enjoy it yourself!  The recipe makes plenty to keep at home and give to your friends, family, and coworkers.  Everyone who has tasted it has loved it, and it should last in your refrigerator for about three weeks.
Recipe: Cinnamon Spice Pumpkin Butter
Ingredients
3 15 ounce cans pumpkin puree, approximately 5 1/4 cups or fresh
1 cup apple juice
1.5 teaspoons ground ginger
1 teaspoon ground cloves
1/2 cup brown sugar
1/4 teaspoon liquid stevia
1/2 teaspoon vanilla stevia
1 1/2 tablespoons ground cinnamon
1 teaspoon ground nutmeg
1 teaspoon allspice
Juice of 1 small lemon
Directions
Combine all ingredients except for lemon juice in a pot and bring mixture to a boil.  Reduce heat and simmer, covered with lid ajar, for 35-45 minutes, stirring frequently.
*Note from
Angela
 that is oh-so-true: Be careful as the mixture bubbles and pops!
Remove from heat and immediately stir in lemon juice.