As I stood over the water in Brooklyn Bridge Park, overlooking the city of Manhattan, listening to the sounds of water ferries, jet skis, and barges, eyeing the progress of the construction of the new tower that will complete the memorial to 9/11, I was struck with a sense I haven't felt in quite some time.
I took the year off from teaching so that I could fully prepare for my comprehensive exams in the fall and spring, and I had planned to use this time to also get some writing done. For the first time in five years, other than the occasional blog, I planned to work on non-academic writing. I call myself a playwright, yet I haven't finished a play in years. I call myself a blogger, but I rarely sit down to blog anymore. I've produced immense amounts of writing over the past four years, but mostly to be turned in to a professor and read by very few eyes. As someone who has always wanted to be a writer, it seems so logical to take part of the unstructured time granted by my PhD program in – get this, English – to actually do some writing for fun. Great idea in theory, but the practice has been much, much more difficult than anticipated.
It seems my problem with non-academic writing hasn't been only due to lack of time; it is also connected to the fact that I apparently don't want to write. Feel free to gasp; I do every time I consider this possibility. Still, the fact of the matter is remains: when I set aside time to sit down and write, I don't have the urge, and while I remember the day when I disciplined myself to keep a pen in hand for a full hour regardless of my mood, those days have long since passed – or at least it has seemed that way recently.
And then it happened. I travelled to New York with two friends for a conference on the state of the academic profession, and the morning after the conference, I found myself standing in DUMBO (down under the Manhattan Bridge Overpass).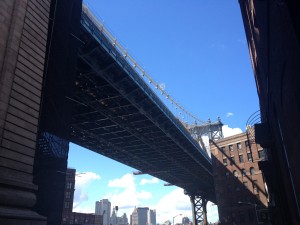 Literally.
I imaged how different the view of the Manhattan skyline would've been for Edith Wharton, laughed at a friend's joke that alluded to Whitman's "Crossing Brooklyn Ferry," and felt "the mist / and Liberty" which Marianne Moore says "dominate the bay."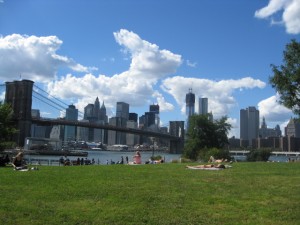 Manhattan Skyline and Brooklyn Bridge Park
Artists began rushing through my mind. Jack Kerouac was inspired by this site, for God's sake, and who wouldn't want to follow in those footsteps?
And that's when it hit me, the state I might forever, or at least for today, refer to as dumbo: a moment of longing to put pen to paper, jotting down sights, sounds, thoughts, visions both real and imaged, creating something – who knows what – anything on paper. The sad ending to this story is that I didn't have any writing instruments on me, nor did I have the requisite few hours to spare, but the ignition was lit simply through the proof that the desire, the physical yearning to write, is far from extinct within me.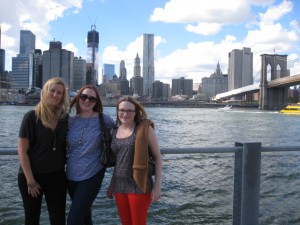 At least I had good company!
So here I am, back in Atlanta, putting fingers to keyboard (a decent alternative to pen to paper, when necessary), taking my first step in a long time. Not vowing to write regularly, recognizing that some days I absolutely will not want to write, I determine to keep a pen and paper on me at all times, and I choose ahead of time to heed the feeling of being in dumbo, so that when it occurs, I take time, if only a few minutes, from whatever it is I'm doing, and give in to my heart's call.