It's that time again: another awesome game day in the beautiful Athens, GA!  I've noticed that a lot of Southern healthy living bloggers mention football, but no one I read really seems to tell you much about it.  Because football is such a way of life around here, it's absolutely something fun that plays a role in healthy living, so I want to make sure you get to see it if you're interested!
I introduced you briefly to the glory of football in the South last weekend, but I skipped out on tailgating, so I had less to offer on that front.  Since we were back in Athens this week, I did a little more to give those of you who aren't familiar with college football fun a better idea of what it's like around here.
I'm also happy to report that this week was MUCH more fun than last week.  Not only did we tailgate with some great people and catch up with wonderful old friends, but the game was a lot of fun.  Alright, maybe we still lost, but it was a great, close game, it was either team's game at any time, and it felt great to cheer on the Dawgs and watch them look like a real football team again.
It started with a great tailgate, featuring homemade bbq, courtesy of my brother's college roommate.  I was so occupied visiting friends and trying to capture the overall vibe for you that I forgot to photograph the food.  Oh well.  Back to food posts tomorrow.
There was a new feature at this tailgate that I've never seen in the past, and I must say I was pumped:
Zoom in on the bottom, near the right, and you'll see RECYCLING boxes!  I was so excited to see these that I literally went through our tailgate's trash bags and moved all the cans and glass bottles from the trash into the recycling box.  Until I got stuck with someone's gum all over me.  Then I slathered myself with hand sanitizer and moved on with my life.
For those of you who aren't familiar with major school tailgating in the South, this is a small glimpse of it.  The next one gives you a (slightly) better idea of how many people love tailgating.  There are tons of people, out with their tents and RVs, covering the entire campus!  Estimated at about 100,000 tailgaters per game.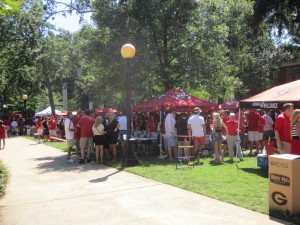 Next up, the game!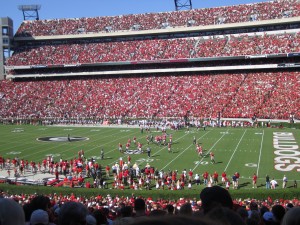 Look at all that red!  One of the fun parts of playing South Carolina is that both teams are red, just different shades, so the stadium really looked awesome decked out in one color.
I also took this quick video to give you an idea of the atmosphere.
What's your favorite past time?  How does it contribute to your mental health?