Sorry, blog friends.  You're going to have to bear with me for a week or so to get this lovely little notjustacarnivore project fully up and running regularly again.  It turns out that returning from the honeymoon is just about as busy as the weeks leading up to the wedding.
I'm not even working on the usual name changes and thank you notes yet.  Life is taking the front seat to all that.  If I can call it life.  Right now, it mainly consists of school work and a weird sleep schedule.  I don't even have time to cook new fun foods because of school work.  Boo!  Hopefully this will all be worked out by the end of the week when I'm all caught up and ready to get back to normal.
Here's the thing.  Getting married in the middle of August when you're a grad student/instructor isn't the best plan.  In fact, it wasn't the plan at all, but after some mishaps with the wedding date, it was the best we could get.  So, I missed the first week of classes for the honeymoon.  Which means that now, I'm playing major catch up so I can be a good student tomorrow morning and a good teacher tomorrow afternoon.
That doesn't sound so difficult time wise, except for two things.
1. There's just a lot to do than I expected.
2. My body still thinks it's in the middle of the Pacific Ocean.  Specifically, it thinks it's in the "A" bubble way out in the middle of nowhere, and I don't know how to make it understand that it's back in the good ole US of A.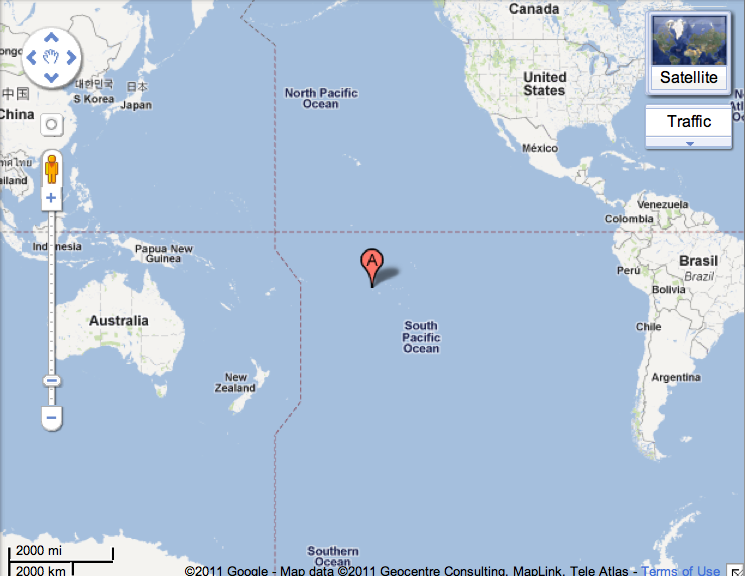 WAY out in the middle of nowhere.
In Bora Bora, I woke up at 7am every day.  Why not?  My body thought it was 1 in the afternoon, and I got to wake up to this.
Now, I need to be in bed, but my body doesn't seem to understand that it's past my bedtime.
I tried to take care of this issue last night by going to bed at 8 just so I'd wake up early.  8 here, though, is 2pm in Bora Bora, so I think my body thought I was napping, since I woke up at 12:30 and couldn't fall back asleep until 3.  I did well until 6:30, when I got up, intending it to be for good.  After breakfast and some work, though, I conked out on the kitchen table until a few minutes after noon!  Seriously?  I don't have time for this.
I'll start cooking new, fun foods again soon, I promise.  Until then, try some Peanut Butter Panda Puffs.  They're new to me and they rock!
What are your tips and tricks for readjusting your body clock?  
What are your favorite food staples for the days when there's just no time to worry about cooking?