Wow.  I am super excited that it's time for What I Ate Wednesday.  Why, you ask?  Yes, you asked.  Well…it's awesome because it lets me catch you up on some of the great food I've had in the past week without writing a million different posts.
You see, I've been photographing my food as usual, but I temporarily misplaced the cord that connects my camera to my computer.  I wouldn't say I lost it, but rather that I loaned it to my husband, which is just never a step in the right direction.  I'm a terrible housekeeper + John is forgetful = the cord got lost somewhere in the mess and where he put it got lost somewhere in his memory.  So, having just found my cord in his bedside table drawer, I bring you to Jenn's party over at Peas and Crayons.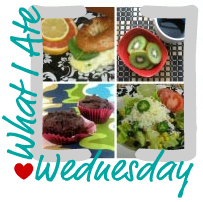 This week's features: the best breakfast, lunch, and dinner I've had within the past week.
Did I mention that these were homemade, HEALTHY, and husband-approved?  You know you want to know how to make these babies.  Check back tomorrow morning for the recipe of the best breakfast I've ever made.  Seriously.
Then there was lunch.  Lunch bunch, to be exact.  I rocked lunch bunch last week with a killer sandwich (don't worry, that'll come later too), but Jordan beat my best with her rendition of Bobby Flay's Chinese Chicken Salad with Peanut Dressing.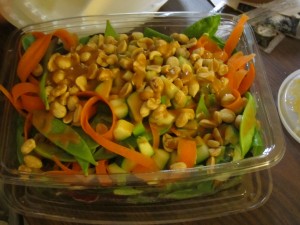 Pardon the lighting; our offices don't have windows.  Jordan used Bobby Flay's dressing recipe, but created her own salad with lots of peanuts, cucumbers, snap peas, greens, shredded carrots, and chicken.  It was pretty stellar.  You know how you search and search so often for a salad you actually crave, hoping desperately that, among the piles of lettuce you constantly put into your body, a few of them will actually be delicious meals that you genuinely want?  That was this salad for me.  I was sad when I finished it, and when I got hungry later that day, all I wanted was this salad again.  I've never felt that way about a salad before.  It was something special.
Finally, the best dinner of the week.  This is a healthy living blog, right?  Too bad, because sometimes I just want to indulge, and the best dinner I had this week definitely came in the terribly fattening, cholesterol-raising form of some pretty spectacular FRIED CHICKEN!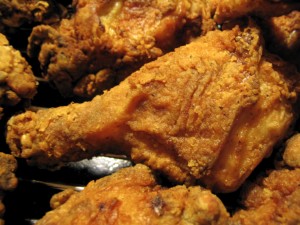 Publix makes what is honestly my favorite fried chicken…forget grandma's recipe and mom's more modern version.  It's all about Publix for me (no offense, Mama).  And what better occasion for a ton of fried chicken than a tailgate at a JOURNEY concert?  So maybe the chicken wasn't my best dinner – maybe the concert was my best night and I associate the fried chicken with the concert – but regardless, absolutely the best things I did and ate this week!
What was the best thing you ate this week?