You know what I'm talking about.  These are moments we all have in common.  Whether your BMI registers as morbidly obese or grossly underweight, we've all had this feeling.  It's not fun, and it can be hard to overcome.
I just came out of one of these moments.  It happened as I was prepping clothes for work tomorrow.  I need business clothes for the first time in three years, and I need dress pants for tomorrow (thanks tropical storm for FINALLY making it cooler around here.  At least a tropical storm is good for something.)  Problem: I'm two sizes larger than I was when I wore business clothes three years ago.  Two sizes; that's not a little bit of weight.  Not like a lose 5 pounds and you'll feel better sort or deal.  So all of my pants are WAY too small, and the one pair I can get into looks silly with all my clothes – my everyday clothes are too casual, and the business clothes are from three years ago and, thus, tinier than I ever remember being.
Naturally, this led to one of those dreaded moments, when we fill ourselves with self-loathing, vow to lose weight, and either eat chocolate to make ourselves feel better or refuse food because we're just too fat.  Either way, it's a mentally unhealthy downward spiral.  Luckily for me, the notjustacarnivore project is about all forms of health, mental health included, so I knew I needed to handle this situation before I started feeling bad about myself.
Solution: I went to the kitchen and prepared healthy foods for later, when I really do need food.  Tomorrow morning, we'll have some delicious overnight oats, and everything is all set for tomorrow's lunch bunch.  No risk of having to grab chicken tenders and fries from the street stand because I have no food; lunch bunch to the rescue!  Now, I feel better, and I know that tomorrow has plenty of healthy foods in store!
What's this whole lunch bunch thing about?
You'll find out tomorrow night.  In the meantime, here's what we had for lunch bunch on Thursday.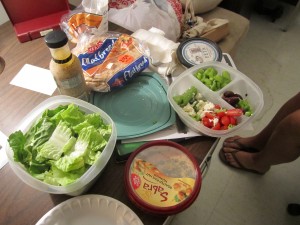 Jordan brought all these ingredients for us to make a scrumptious, healthy lunch: lettuce, hummus, tomatoes, feta, celery, olives, whole wheat pita bread, and Light Greek Vinaigrette.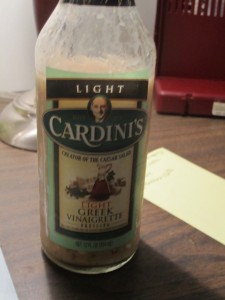 She thought a salad was in order.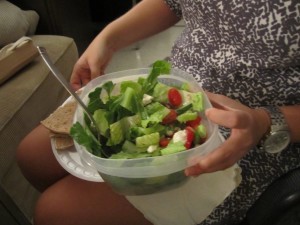 I was thinking more along the lines of a wrap.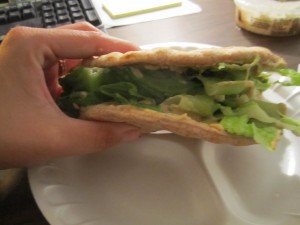 The variety made lunch more interesting too!  Lunch that was easily put together straight from the fridge at work!
Do you get together with friends to bring healthy lunches to work?
How do you pull yourself out of the dreaded Oh My God I Feel  So Fat moments?