Nothing could be finer this time of year than the beautiful…the glorious…the gourd.
Naturally, these fantastic fruits (gourds are fruits, right?) deserve their own What I Ate Wednesday post, so we're joining the gang over at Peas and Crayons to love, to celebrate, to revel in the glory of the gourd.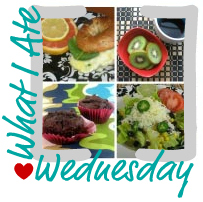 Want to join in the fun of fall cooking?  Check out my recipes, or stay tuned for the ones that aren't posted yet (they'll be up this week!)  Spoiler alert: they're almost all pumpkin related.  I'll try to branch out next week.  Maybe.
Best Breakfasts
Pumpkin Waffles top the list, obviously.
Not a lazy Saturday?  Want something you can cook the night before?  Chocolate Chip Pumpkin Muffins, indeed.These look mighty tasty.
So busy you don't have time to cook, period?  I know the feeling.  You don't even have to cook these babies.  Pumpkin Spice Overnight Oats.
Seasonal Snack
What kind of food blogger would I be if I didn't make some Pumpkin Butter to throw onto…well…everything?
Suppertime with Squash (the Butternut Kind)
The Butternut Squash and Farro Risotto John and his cousin made for me definitely wins the award for best dinner of the month.
And…end scene.
What's your favorite gourdelicious meal?