Welcome to another fabulous What I Ate Wednesday party, graciously hosted by Jenn over at Peas and Crayons.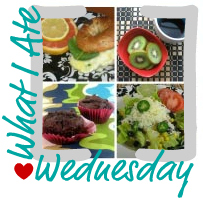 Today we'll explore one of the most amazing aspects of Bora Bora: the fruit.  The fruit in Tahiti 100% trumps the fruit here in the States.  Most fruit was a little less sweet, but it had a rich, full-bodied flavor (am I describing wine?) like I've never tasted.  Nothing was too sweet or too tart, and each bite left me satisfied, although I still couldn't resist having more.
The bananas and pineapples were simply the best I've ever imagined.  I didn't know bananas and pineapple could taste this good, which is saying a lot, since I LOVE them both, especially bananas.
Sadly, I don't have any photos of the bananas, but I can't leave them out of the post because they're the best on earth.  The flavor is rich and full, and all of our best desserts involved bananas.  The uncontested winner of best dessert: if you ever go to Bora Bora, make a reservation at Villa Mahana months in advance and order the molten chocolate cake with fresh vanilla ice cream (seriously fresh vanilla) and banana flambe.  It was simultaneously rich and heavy, and light and creamy, and it melted in your mouth regardless of which part you were eating.  Fantastic.  Possibly the best thing I've ever eaten.
Onto food with photos now.  Considering my love for all things fruit, imagine my excitement when I saw these on our buffet one of the first nights
That same night, I discovered the most delicious drink I've ever tasted.  Sadly, I don't remember the name and I can't find the recipe.  I can tell you that it was some sort of coconut cocktail, served inside the coconut, made with rum, fresh coconut milk, coconut cream…and maybe more.  Fresh vanilla is all over the islands of French Polynesia because Tahaa, one of the islands next to Bora Bora, is full of vanilla plantations.  Based on the flavor, I'd venture to say that it had a little vanilla in it, but I don't remember the server telling me that when I asked, so I can't be sure.  It was a really filling drink, so don't drink too many if you plan to eat much.
Then there was the melon.  We enjoyed a lot of cantaloupe and honeydew while we were in travelling, but the absolute best was on our last full day in Bora Bora when Motai made us lunch (Be patient.  The story of Motai is coming.)  He and his family grew this cantaloupe in their own garden, and it was undoubtedly the best we had the entire trip and, thus, the best we've ever eaten.  The melon practically melted in your mouth with a beautifully rich sweetness, and the watery consistency was delightful in the warm, cocktail- and salt-filled environment.
Finally, there was the grapefruit.  Be aware that I hate grapefruit.  I think it's completely disgusting and have no idea how people eat it.
That being said, Tahitian grapefruit is entirely different from what we have in the U.S.  It tastes more like a lime, but it's sweeter.  I still thought it tasted bitter and like a grapefruit, but John loved it (he doesn't eat grapefruit here), and every time I turned it down, the islanders would say, "You just haven't had the grapefruit here…"  They knew it was something unique and extraordinary, and from what everyone told me, they were right.  I could certainly tell that it was different from what I'm used to and significantly better, but it still had that bitter grapefruit aftertaste, so I wasn't into it.
What's the best fruit you've ever eaten?