I snagged a copy of the current issue of Cooking Light at the drugstore yesterday.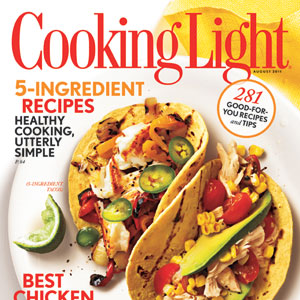 Source
The woman behind the counter looked at the picture, made a funny face, and then let out a loud chuckle and said, "What is that, lobstah?  And fi-ish?  Lawd, they call anything a taco nowadays!"  I'm from the South, y'all.  It's fine.
This whole scenario is funnier because (I think) these pictures are pretty obviously of fish, here tilapia (insert lobstah) and chicken (insert fi-ish), but whether you can tell what the tacos are made of or not, my funny bone was still tickled and I can't stop laughing about it.
Naturally, then, my mind is on tacos, assuming I'm one of those people who calls anything a taco nowadays.  Note to readers: I am, indeed, one of those people.  And that's what inspired tonight's dinner: A Summery "Taco" Extravaganza, featuring shrimp and tilapia.
First, there was this.
Credit to Christy, whose hands are making the guacamole.  I'm somewhere else, probably chopping something.
As an appetizer, we enjoyed the guacamole with some of Trader Joe's best: Baked Blue Corn Tortilla Chips and Veggie and Flax Seed Tortilla Chips.  The veggie and flax seed chips were great – had just the kick they needed – and received good reviews from all three of my eaters.  Loved them!  What a great, healthier way to enjoy tortilla chips!
Then onto the actual tacos, not just the side item/topping.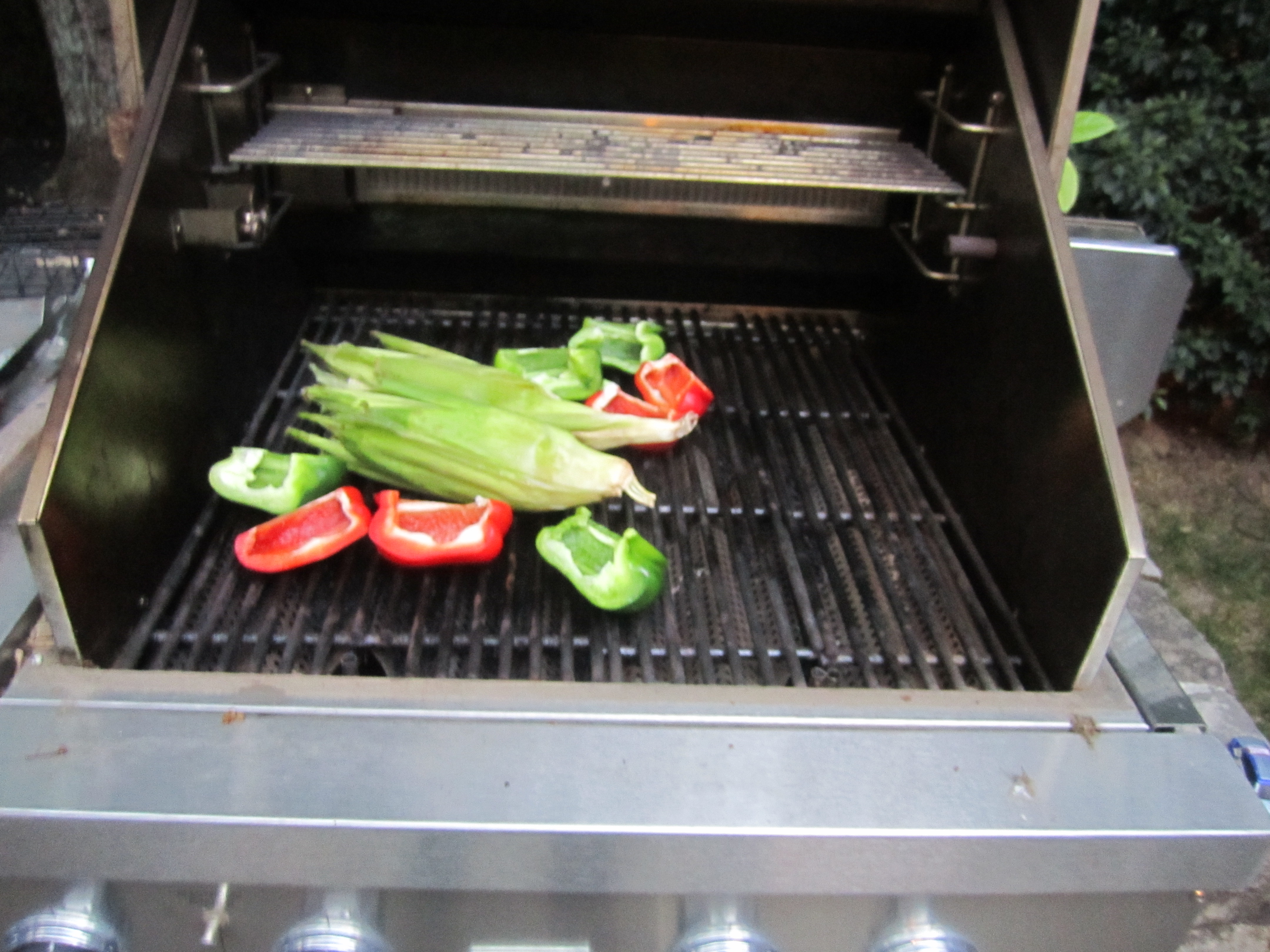 I grilled the bell peppers and corn to shuck as toppings.  I'll tell you more about grilling corn tomorrow, when I'll answer a reader question with a post on how to grill corn on the cobb.
Mother Nature decided to be my enemy while cooking tonight, but I had none of it.  I was grilling the fish and shrimp for the tacos come hell or high water.
And high water sure came.  I covered as much of myself as I could.
Important note: Katy 1, Mother Nature 0.  I grilled that shrimp and fish and everyone loved those tacos.  Winning.
Grilled shrimp, grilled tilapia, homemade guacamole, grilled corn kernels, fresh cilantro, chopped onions, grilled red and green bell peppers, and sliced avocado.  Not pictured: Rudi's Spelt Tortillas.  They crumbled more than most flour tortillas, but I'm thinking rubbing some olive oil on them before heating them would fix that.  Either way, they tasted just like flour tortillas.  I'll definitely use them again.
The final product.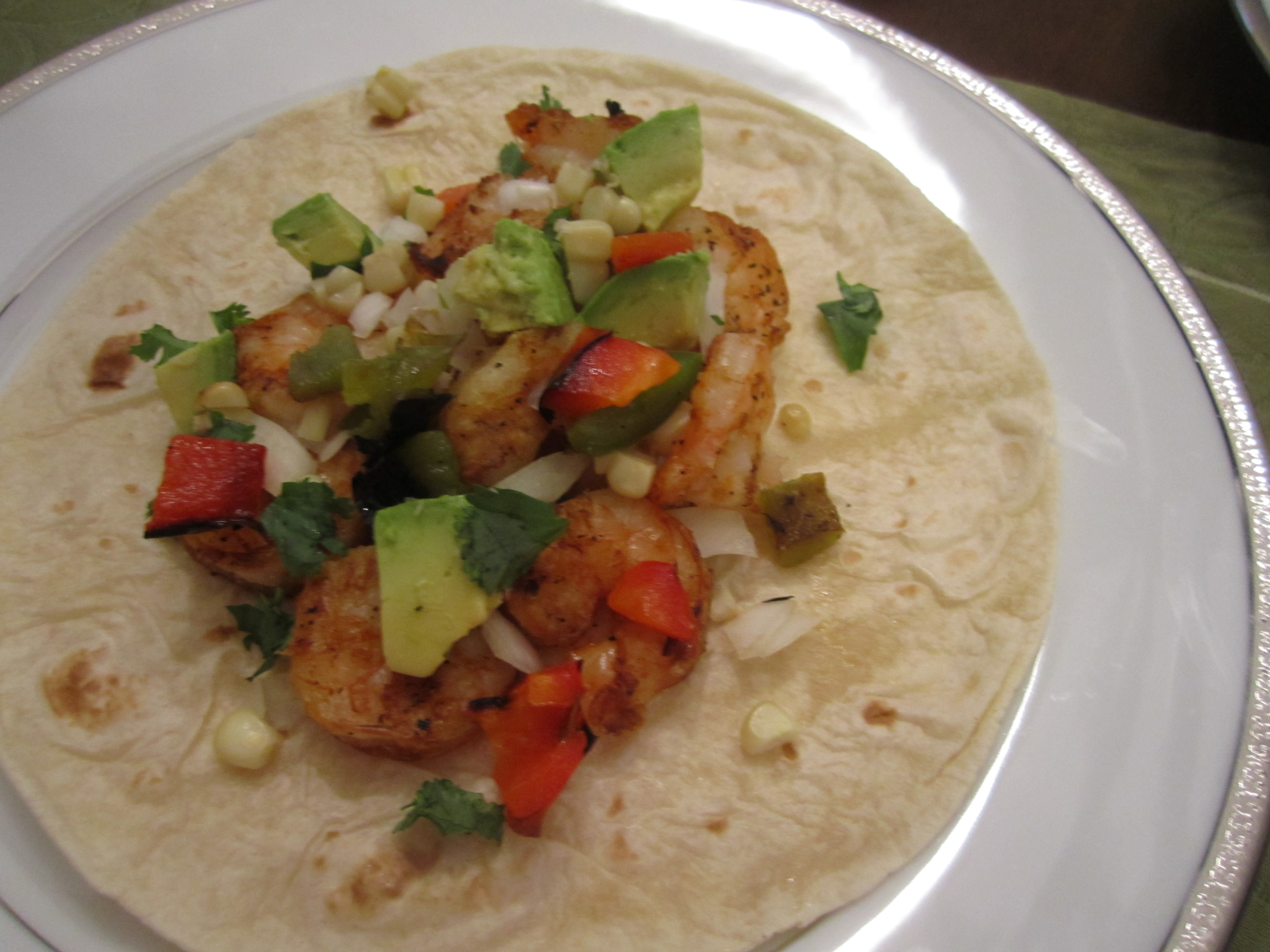 Totally worth taking on the weather super-hero style!  And no worries, I rolled it up to ensure I had a "taco."