I'm baaaack!  After being thrown totally off schedule by spending two weekends in a row in Texas with very limited (and expensive) internet access, I'm finally back to tell you about all my adventures and start keeping up with this blog regularly again – cooking healthily, not eating terribly.
Although I must admit that eating terribly this weekend was a lot a fun and I'm excited to share my experiences.  The best experience was probably our lunch at County Line BBQ, the hill location in Austin, TX.  There are only 9 of these joints, 8 in Texas and one in New Mexico, but I'd happily take one in Georgia! Hint hint to any restaurant franchisers out there.  I think we went to the best location.  Obviously because of the hill.
With a spectacular view of Hill Country, Texas, I have to suggest this location simply for the view.  Although there are some other reasons to visit County Line.
Obviously, there's the food.  Incredible.  John and I didn't want to miss out on any of the Texas style BBQ, so we ordered all of it.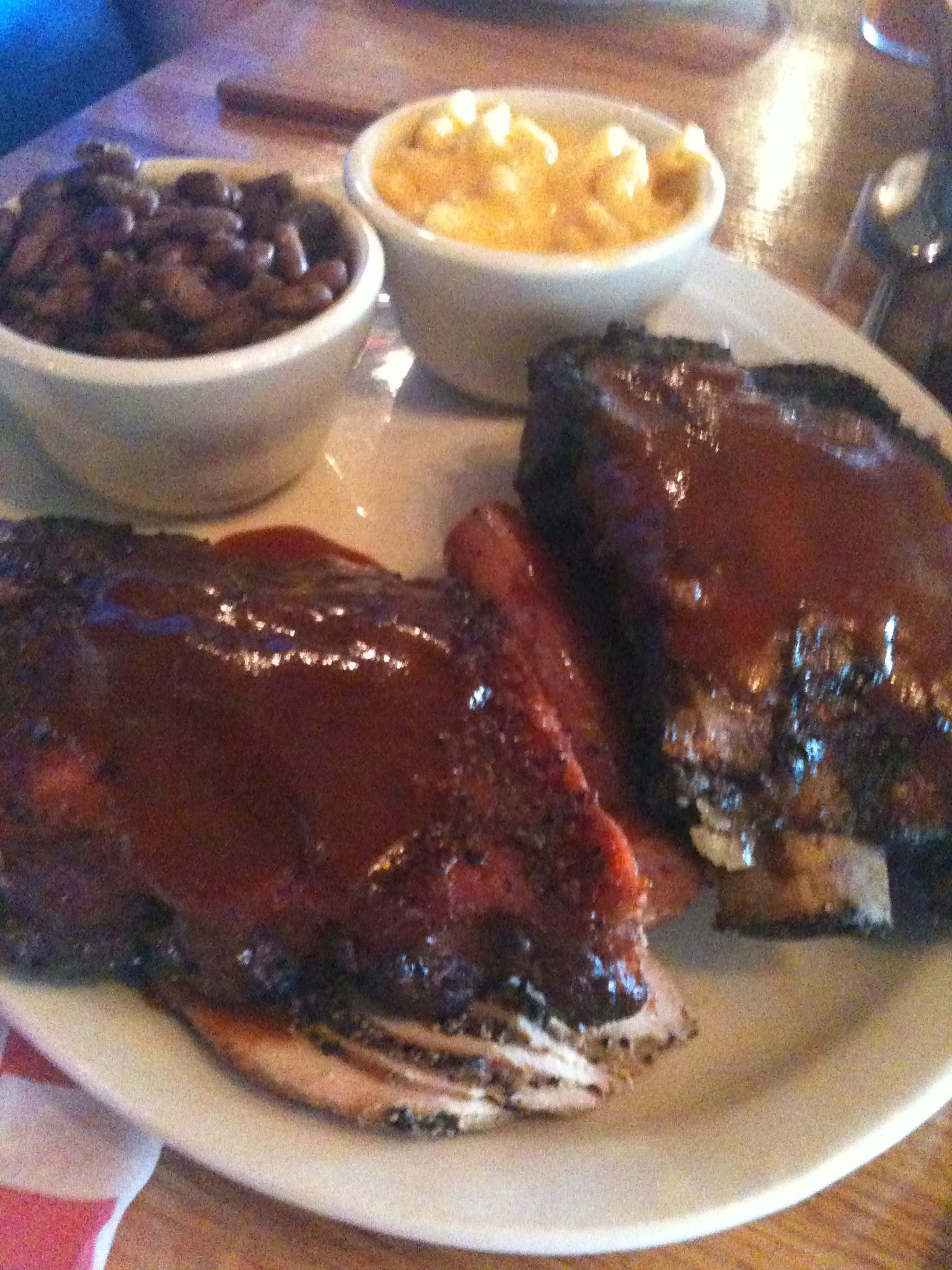 Literally, all of it.
I feel the need to explain something here.  The pictures don't do justice to the amount of food, but it was too messy to move it around for a better image.  So here's a good idea.  That top picture isn't just a few ribs.  What you see is both beef ribs and pork ribs.  Underneath each little slab of ribs is three more Texas BBQ dishes: sausage, peppered turkey breast, and County Line's original lean beef brisket.
Oh, and then there's the second picture.  BBQ sliders (we thought it'd be a better way to taste A LITTLE of the BBQ sandwiches than ordering a full sandwich.  Whatever.  I'd have eaten the full sandwich by myself in addition to all this other food.  It was that good.)  The sliders, like the regular sandwiches, were covered with marbled second cut beef brisket.  This basically just means it's a lot fattier than the brisket on the other plate and, by default, significantly better!
It's a strange thing they do in Texas – they put BEEF on their BBQ.  This is very new to me, as I come from BBQ pork country, but I have to say that I love it.  LOVE IT.  Who wants to open a Texas BBQ joint in Atlanta?  Come on…somebody?
County Line is famous for their beef ribs, which were excellent, although John and I liked the pork ribs better entirely thanks to the incredible pepper rub.
Also at the top of the list, peppered turkey and marbled brisket sandwich.  Heaven.  As you can see, since we were at the top of Hill Country, which I'm starting to think might be exactly where heaven is located.
Things to avoid: Side items.  If you're going to be JUST a carnivore, this is the place to do it.  The side items were absolutely terrible.  The rest was amazing.  Just stick with what they're good at.  Because they're this good at it…
Finally, possibly the best touch of all: If you ever make your way to County Line BBQ . . .
wait for it . . .
go to the restroom.  Seriously.
You know at Macaroni Grill, you walk into the restroom and they play that stupid tape on "How to Speak Italian"?  Right.  You know what I'm talking about.
County Line had the same thing, only it was SO much better.  Bathroom tunes include: "How to Speak Cowboy."  I kid you not.
Heaven.