I was bumming time between appointments in one of my favorite little boutiques today, actually looking for bridesmaids gifts, but I walked out with only one purchase, and it was for myself: Whole Foods Diet Cookbook, by Ivy Ingram Larson and Andrew Larson, MD.
If it hadn't been for the bright colors of the book, I'd have been really turned off by it since it has the word "diet" in the title.  I hate that word.  Life isn't about dieting; dieting means that you eventually stop, go back to your original way of eating, and change nothing in your lifestyle.  It's deprivation of food you enjoy.  It's bad.
But I have a bit of a thing for bright colors.  It's like putting something shiny in front of a baby; I just can't say no.  And I was curious as to whether the book is in any way connected to the grocery store Whole Foods (it's not), so I opened it up and read the intro.  Apparently, the couple started learning to eat more natural, healthful, and fulfilling foods per a doctor's suggestion when Ivy, the wife, was diagnosed with MS.  10 years later, they've published multiple books and are full believers in a healthy diet leading to an entirely different lifestyle.
I haven't read enough of this book yet to give much of an opinion, but there's one idea they've already mentioned that I appreciate: the concept of the "flexitarian."  Basically, this means exactly what it sounds like it means – you become more flexible.  These authors still eat meat (YAY!), but only meat from humanely-raised animals without antibiotics or hormones.  And, just as importantly, they add in lots of healthful fruits, grains, and veggies so that meat isn't ALL that they eat.  Sounds a lot like notjustacarnivore, right?  Only published by people who seemingly know what they're talking about.  So I bought the book, will tell you more about my opinion on it as I go, and implemented the basic ideas of flexitarian eating with tonight's dinner.
The Dinner Process: Crab Cakes over Veggies
Sweet Tater Blog reminded me the other day that one of the best ways for a beginner to stick to making regular meals is to find a cookbook she (or he, let's not be sexist here) likes and cook a lot from it.  I took that advice and, naturally, got tonight's recipe from Cooking Light: Way to Cook.
First, I mixed lots of fun cake ingredients for the cake part of the crab cake: egg whites, parsley, mayonnaise (of course, I used EarthBalance Mindful Mayo),chopped red onions, dijon mustard, worcestershire, bread crumbs)
Mix it all up.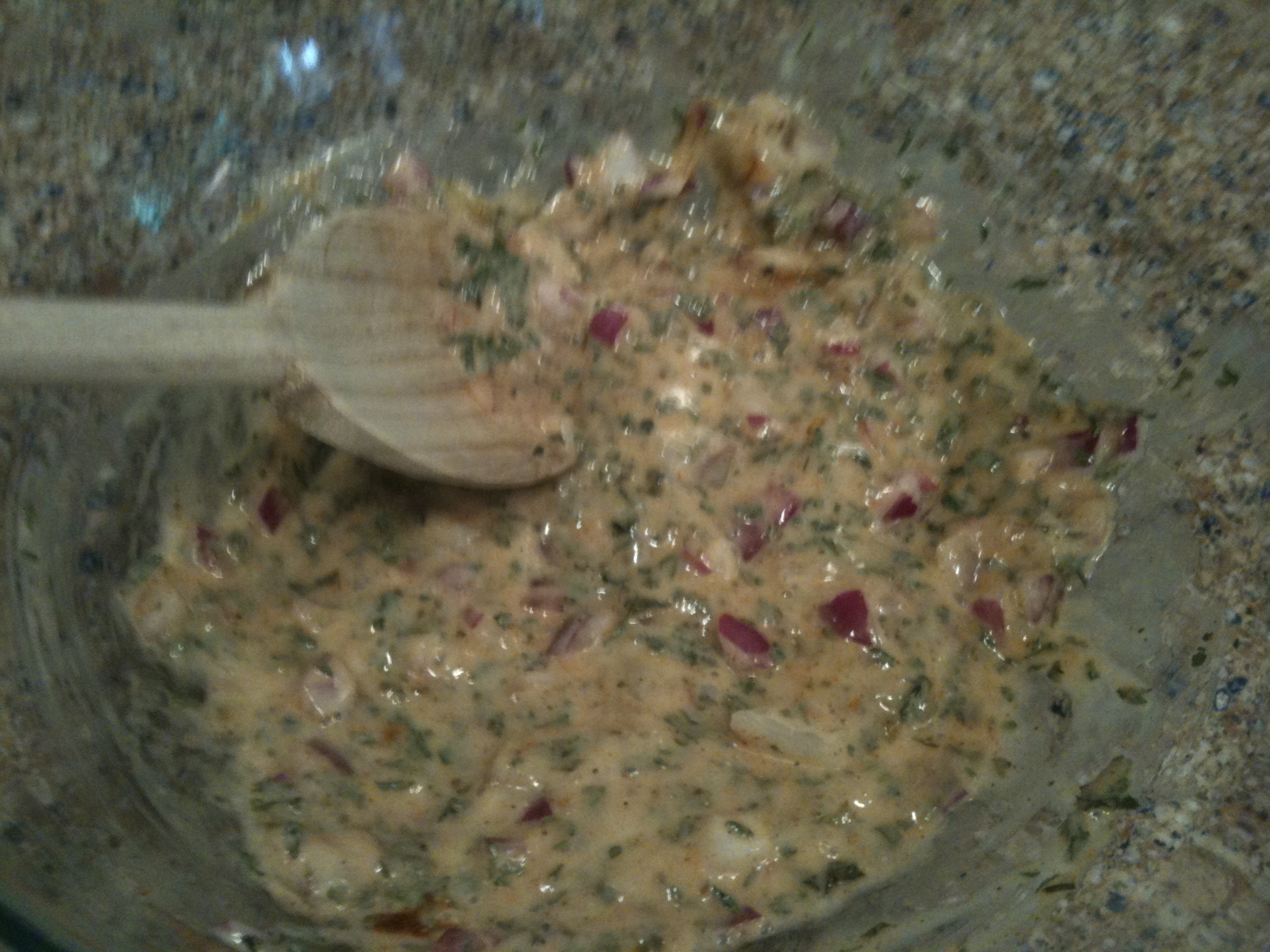 Throw in some crab.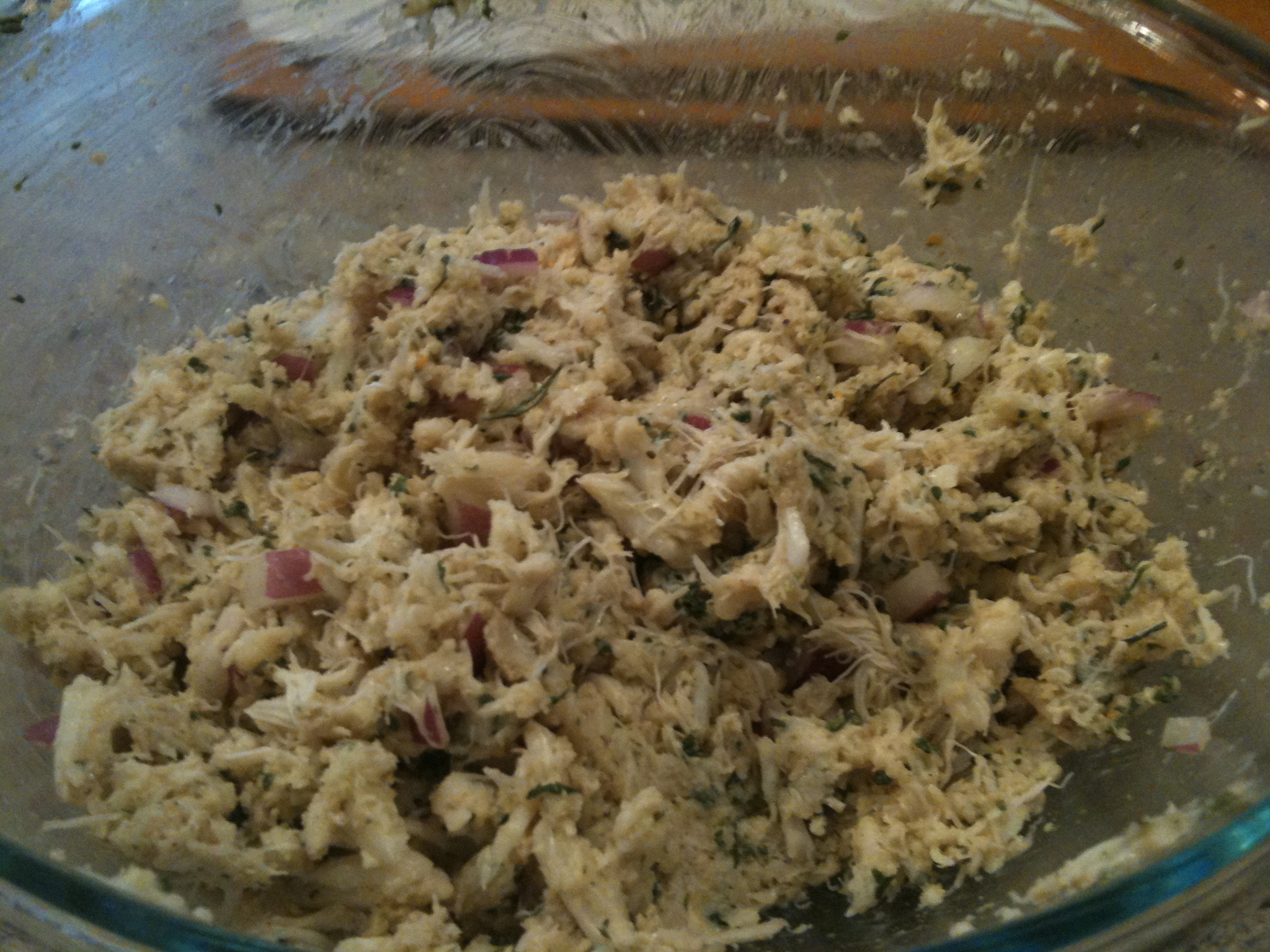 Chill so that it will stay together while cooking.  Separate into individual cakes, cover each cake in bread crumbs, and throw on the stove.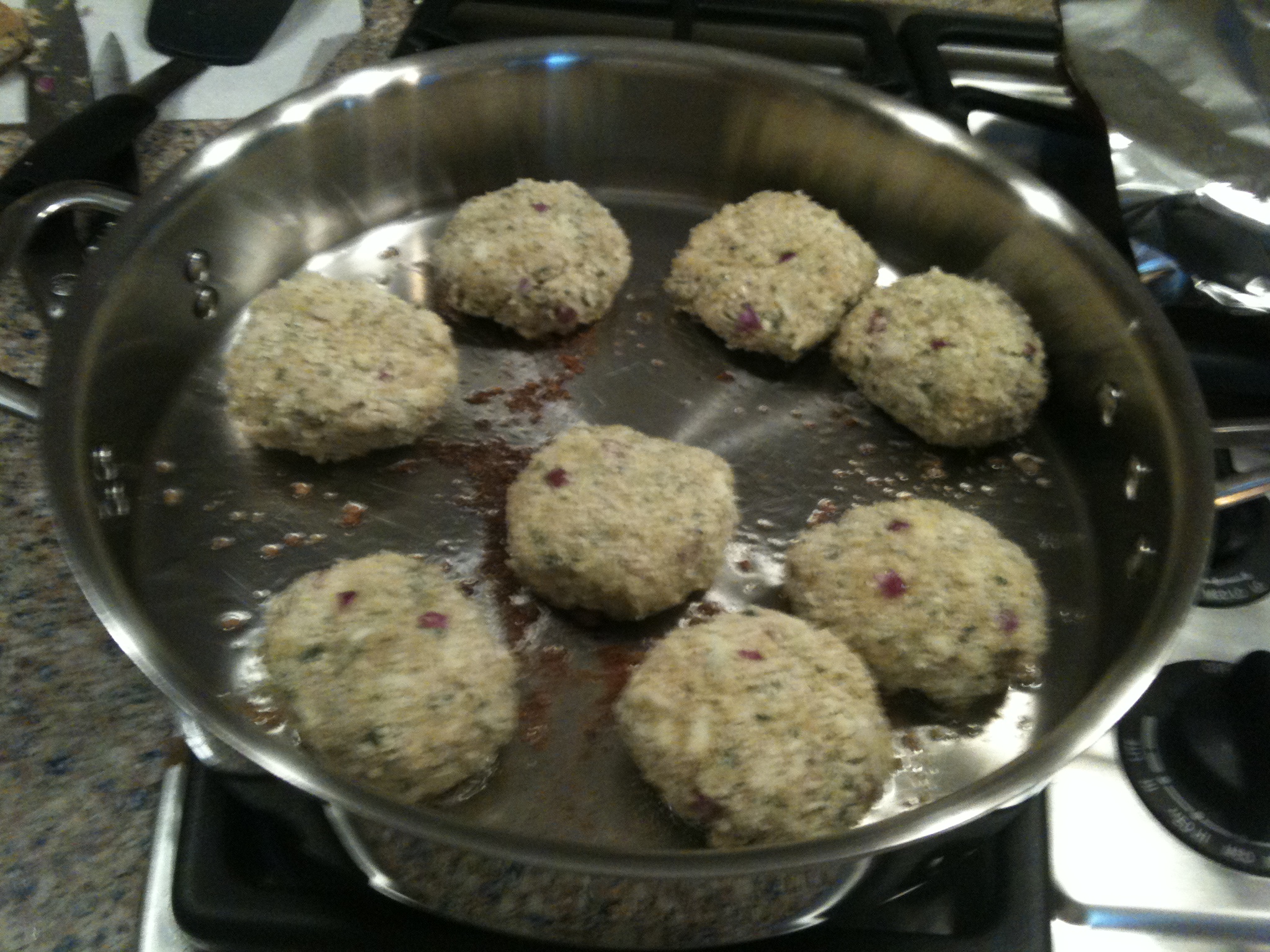 In the meantime…
Cut up red potatoes, baby carrots, and shallots, and throw into oven with a little salt.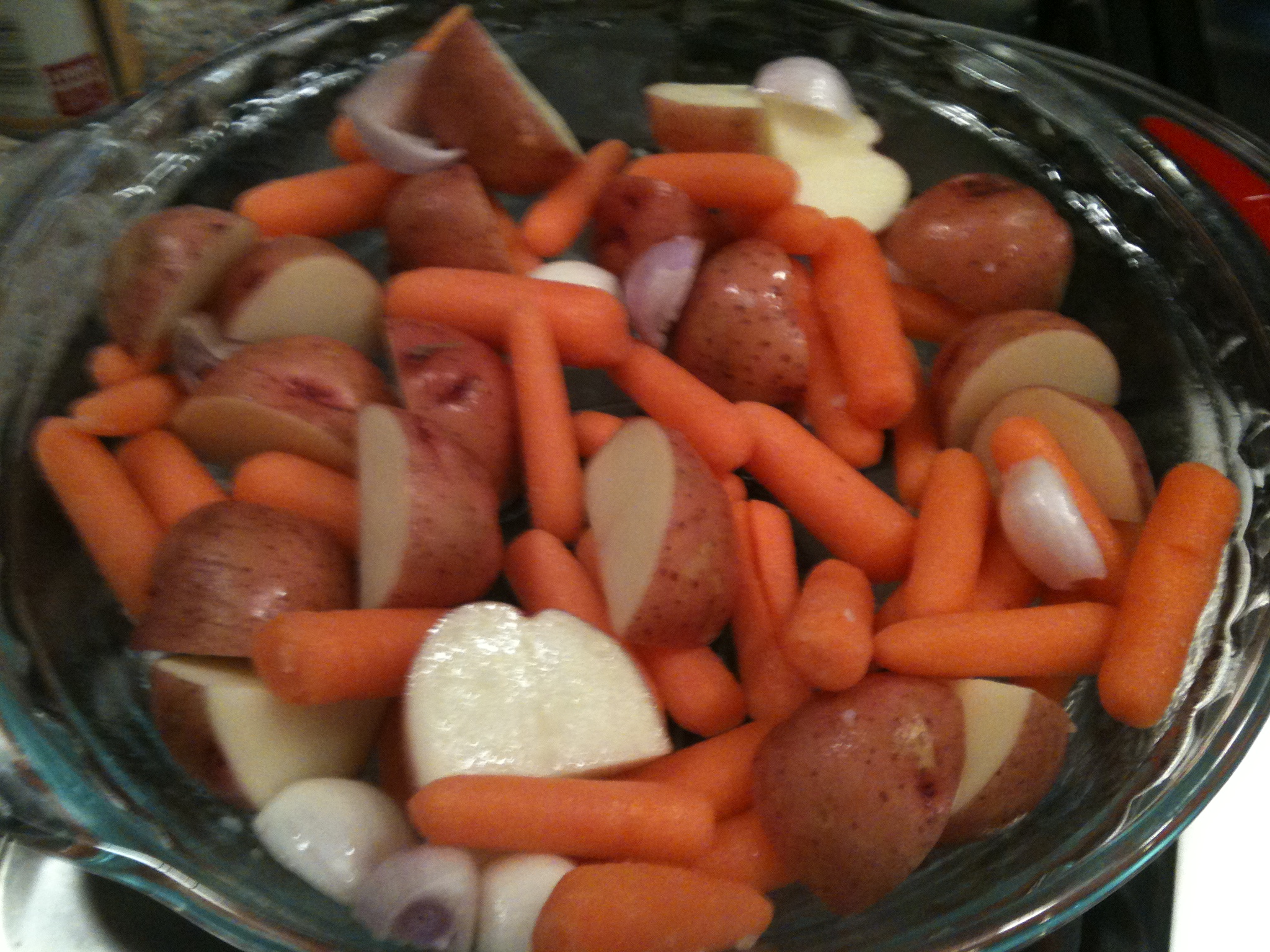 And also meantime, mix some chicken broth, vinegar, shallots, and butter (again, EarthBalance) to make a sauce.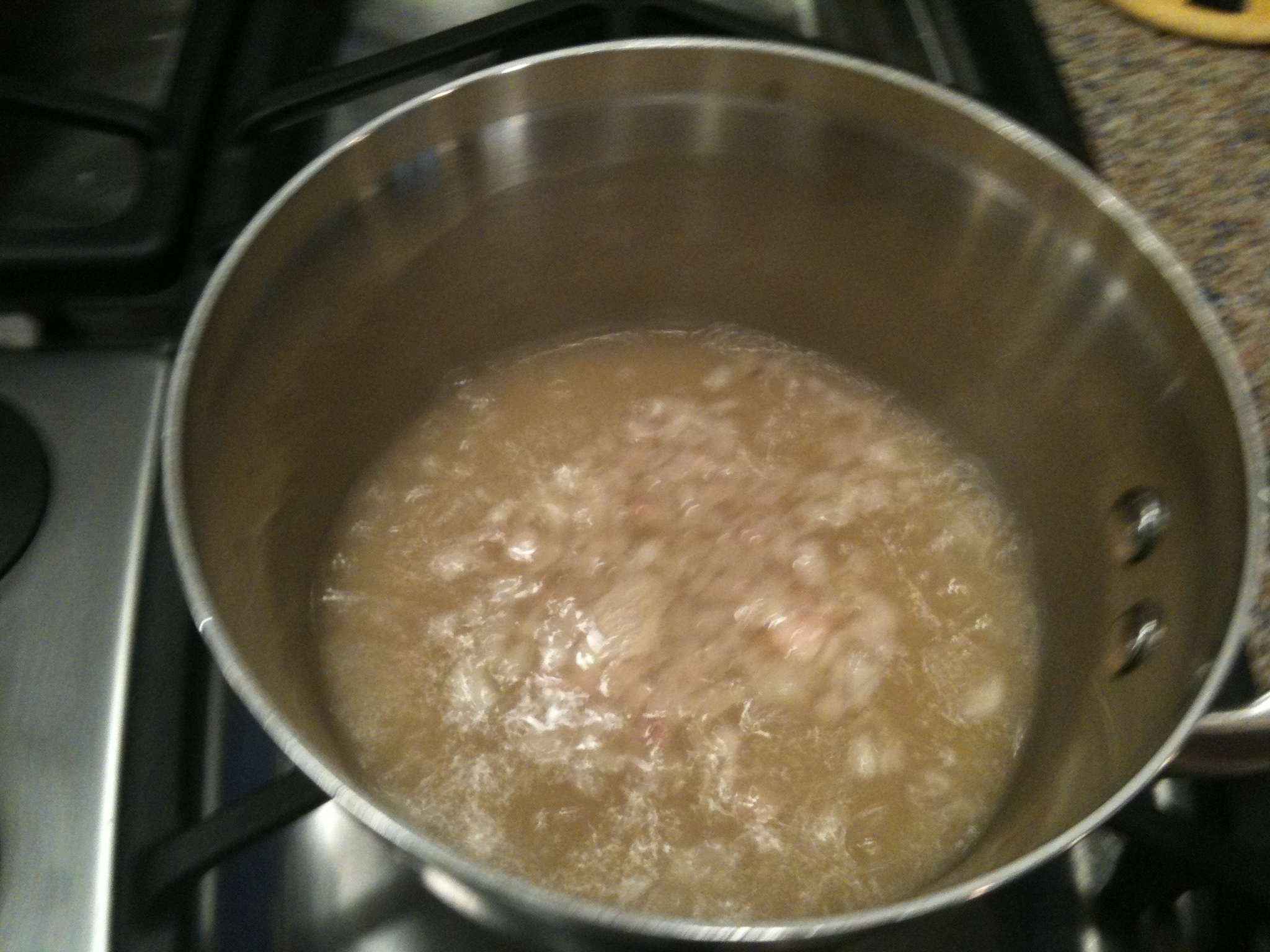 And finally, put a crab cake or two over veggies, pour sauce over both, and dinner.  Done.
Thank God for second helpings.