You know you missed me.  3 days without notjustacarnivore.  Yikes!
The past few days have been crazy.  Hectic.  Insane.  Hell.  But by 5pm on Friday, I'll have finished my masters degree (in nothing to do with food, health, the body, or nutrition, mind you) and will have time to cook again.  Promise.
Of course, during this time, I still had to eat, so I'll do some backposts as I go along to tell you about my culinary endeavors (quick and easy as they were) during my time in the hole.
That's where I go if I disappear without posting for a few days.  The hole.  It's dark, it's ugly, and it usually involves piles of books and God-only-knows-how-many-pages-of-writing.  Please pull me out.
In the meantime, I'm doing my first post for WIAW: What I Ate Wednesday.  Yay!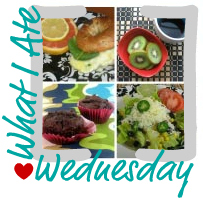 Jennifer at Peas and Crayons started WIAW…well…long before I entered the blogosphere.  I look forward to Wednesdays every week because I get to see what all my favorite bloggers ate.  So, WIAW #1 for me:
Lots of fruit.  All week long.  Bowls from restaurants, fresh fruit from home, frozen fruit in homemade smoothies.  I've had a lot of fruit.  Poor blood sugar.  Happy Katy.
Spinach, feta, onions, red peppers.  And more.  I don't know.  I didn't make it.  But it tasted good.  Thanks J. Christopher's!
I'll take more pictures next Wednesday to majorly improve my WIAW #2.  I can already tell this is going to get addictive…